FULL CARD LIST
All mammals with an estimated population of less than 100,000 have a Holographic card. The print run number follows the animal.
Holographic
Earth 1
South China Tiger 8*
Vaquita 10
Hainan Gibbon 30
Wondiwoi Tree Kangaroo 50
Amur Leopard 100
Pygmy Three-Toed Sloth 100
Gervais Beaked Whale 100
Seychelles Sheath-Tailed Bat 100
Saola 100
Brown Headed Spider Monkey 250
Vancouver Island Marmot 300
Northern Hairy-Nosed Wombat 300
Cozumel Raccoon 300
Black Footed Ferret 400
Hirola 500
African Wild Ass 600
Darwin's Fox 1,000

Mountain Gorilla 1,000
Ili Pika 1000
Wild Bactrian Camel 1,000
Black Panther 1,000
Borneo Pygmy Elephant 1,500
Giant Panda 2,000
Ring-Tailed Lemur 2,500
Bengal Tiger 3,500
Wild Water Buffalo 4,000*
Giant Anteater 5,000
Baird's Tapir 5,000
Giant Otter 5,000
Okapi 5,000
African Wild Dog 6,500
Snow Leopard 7,000
Cheetah 7,000
Red Panda 10,000
Southern White Rhino 10,000

Manatee 13,000
Wild Yak 15,000
Jaguar 15,000
African Lion 20,000
Tasmanian Devil 20,000
Gray-Faced Sengi 20,000
Blue Whale 25,000
Maned Wolf 25,000
Gaur 25,000
Polar Bear 30,000
Wolverine 30,000
Dugong 30,000
Alpine Ibex 30,000
Canadian Lynx 50,000
Spotted Hyena 50,000
Orca 50,000
Koala 60,000
Humpback Whale 84,000
Non-holographic
Narwhal
Giraffe
Wild Horse
Bornean Orangutan
Baikal Seal
Ground Pangolin
Honey Badger
Sea Otter
Hippopotamus
Northern Elephant Seal
Beluga
Brown Bear
European Pine Marten*
Alaskan Moose
Black Squirrel*
Walrus

Chimpanzee
Duck Billed Platypus
Warthog
Grey Wolf
Sperm Whale
Vicuña
African Elephant
African Buffalo
Meerkat
American Bison*
Zebra
Bottlenose Dolphin
Bobcat
Black Bear
Ocelot
European Badger

Beaver
Red Kangaroo
Reindeer
Springbok
Wild Boar
Porcupine
Aardvark
Red Fox
Hedgehog
Chipmunk
Skunk
Hare
Rabbit
Mouse
Rat
* The South China Tiger is a card that does not link directly to the animal's estimated population. It is thought to be extinct in the wild. 8 is a lucky number in China so we thought it was only fitting, maybe there's still a few out there. Over 100 are currently in zoos.
* There are only an estimated 4,000 Wild Water Buffalo, however there are 200 million domestic.
* There are only an estimated 30,000 truly wild American Bison, the rest are in privately owned herds.
* There are 2 Million domestic Bactrian Camels.
* There is not enough research to give accurate population estimates for the European Pine Marten, Ground Pangolin, Honey Badger and the Black Squirrel.

Cards 0-53 also have non-holographic versions, not directly linked to population.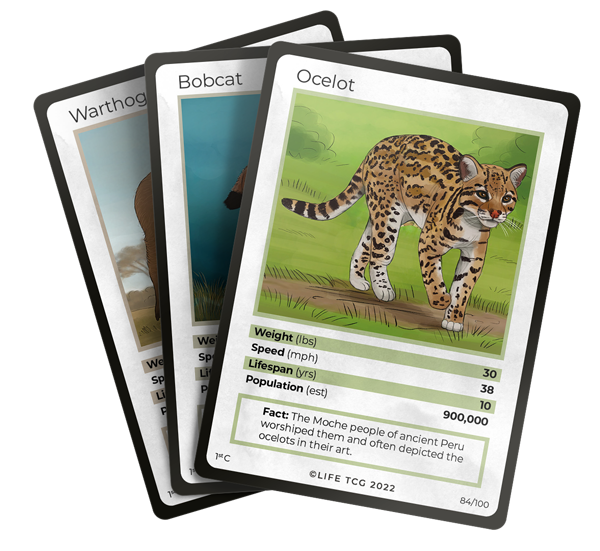 1st Edition Non-holographic Print Run
They are on a tiered system:
0 = 2,000
1 - 25 = 4,320
26 - 50 = 23 K (thousand)
51 - 75 = 27.6 K
76-100 = 32.2 K of each
Examples of both editions side by side:
THE PRODUCT
On average 1 in 20 cards will be a 1st Edition Holo. And 1 in 20 is a 1st Edition Rare (cards 0-25). So every pack will have a rare card!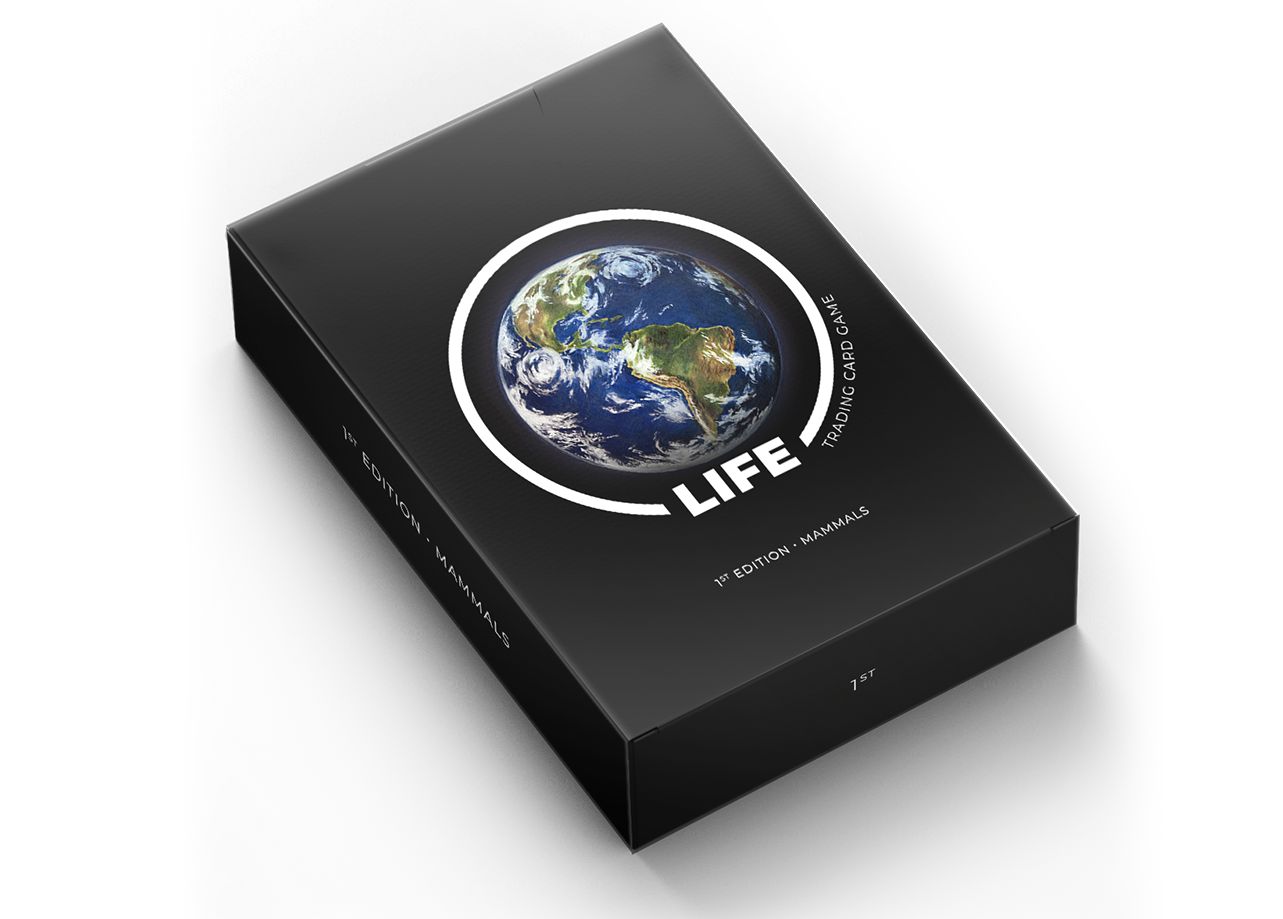 1st Edition Starter Box
10 Booster packs
Total Cards - 100
Holos - 5
Rares - 5
1st Edition Booster Box
36 Booster packs
Total Cards - 360
Holos - 18
Rares - 18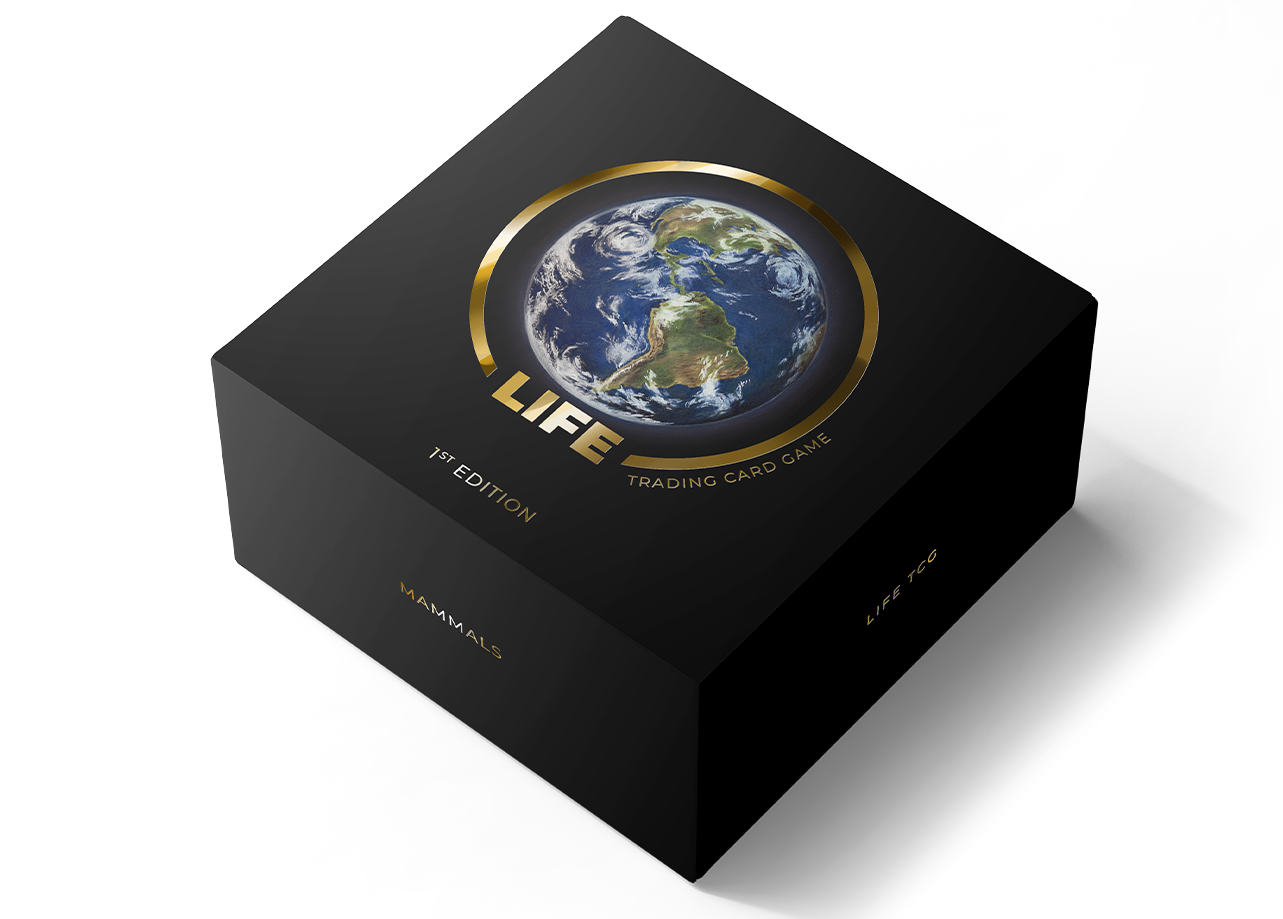 1st Edition Gold Booster Box
1 Gold Pack (10 Holos)
35 Booster packs
Total Cards - 360
Holos - 28
Rares - 17